The Kalashinikov automatic rifle model 1974, or AK-74SU, is an updated version of the proven AK design that was first developed by Mikhail Kalashinikov in 1946. This version of the AK design fires the smaller 5.45x39mm cartridge and utilizes polymer furniture that results in a lighter, more accurate and reliable rifle than its predecessor. Developed during the early 1970s, it first saw service in 1979 in the Soviet and Afghanistan conflict. It is still used by many of the former countries of the USSR, as well as other Eastern European countries, Mongolia, North Korean Special Forces, and the Vietnamese Peoples Naval infantry.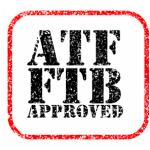 The KWA AKG-74SU is an ATF approved gas blowback AK style rifle that was designed to accurately simulate the AK platform. It features a full metal alloy receiver and high impact polymer hand guards, pistol grip, and full folding stock. An AK side rail mount on the receiver allows users to expand their platform with AK specific mounts and accessories. Realistic construction means that the rifle functions and operates identically to its real firearm counterpart. The blank-fire mode built into the AKG-74 magazine, allows the user to train safely without chambering a round. Powered by the KWA Force Velocity engine, the KWA AKG-74SU is a strong reliable rifle for those interested in training with the AK platform.
KWA Green Gas Performance Test
PARAMETERS
Assumption: Test how many shots a single KWA Green Gas can provide. Average number of shots in a 12 Oz Green Gas can is 500-1000.
Ambient Temperature: 78 Degrees Fahrenheit
Guns Tested: 1 LM4C, 1 AK KCR
CONTROL

LM4C GBB Rifle: 1x green gas + 4 LM4 Magazines
AKG-KCR: 1x green gas can + 5 AKG Magazines
Gas Capacity: filled each magazine for 30-seconds
Magazine Capacity: filled to max capacity of 40 rounds.
CONCLUSION
Test Fire: Kept reloading magazines with BBs until all gas was consumed. Process repeated until gas can was empty & could not achieve a 30-second fill. Magazines were cool to the touch after gas was empty and refilled without warming time.
Results:
LM4C GBB Rifle: 920 total rounds
AKG-KCR: 840 total rounds
DID YOU KNOW?
To get optimal performance and increase efficiency out of your GBB magazines, you should prime the magazine before charging. Watch the video to learn how.
GBB RIGOR TEST

Watch as our friends at Sniper (Germany, KWA Authorized Dealer) put the KWA LM4 & ATP through freezing conditions.