The PTS Mega Arms MML MATEN Gas Blowback Rifle replicates the very distinctive looking Mega Arms' MML .308 platform. The proprietary Mega MML platform interfaces the 14-inch M-LOK compatible aluminum rail with the billet style aluminum receiver in a manner that gives the entire assembly virtually the strength and rigidity of a monolithic upper. The rifle has a 16-inch long barrel, which strikes the best balance of portability and range performance befitting a DMR (designated marksman rifle) style rifle. It is capable of select fire including safe, single shot, and three round burst. The PTS Mega Arms MML MATEN GBBR standard equipment also includes the proprietary design PTS Enhanced Polymer Grip, Enhanced BUIS (back up iron sights), Enhanced Polymer Magazine LR and Enhanced Polymer Stock.
Authentic licensed trademark Mega Arms engravings
KSC/KWA derived proprietary GBB system
Enhanced Back Up Iron Sights (EPBUIS) – consists of a low profile snag-free design that is unobtrusive when collapsed. Blending design with practicality, the EPBUIS includes elevation and windage adjustments as well as dual apertures for close and precise long distance shooting. Allowing the user to be versatile, adapting to any given situation
Ultra lightweight 14" M-LOK Mount Rail with 16" Barrel, compatible with all standard M-LOK accessories
EP Grip (EPG) – ergonomically designed for excellent comfort and a firm angled grip for maximum recoil control
EP Stock (EPS) – a simple yet highly functional collapsible polymer stock. Features unique cheek welds that are both comfortable and practical with storage compartments for tools and utilities
Integrated trigger guard for added functionality and strength
Aluminum Upper & Lower Receivers for greater balance and portability without sacrificing its durability
Steel Bolt Carrier for maximum durability and a heavier kicking recoil experience
EP Magazine (EPM) LR (Large Round) – the beefier .308 sibling of the EP Magazine, boasts a Dupont Zytel™ reinforced polymer body and holds up to a maximum of 35 rounds. The EPM LR features a Bolt Lock Release Unit to prevent the bolt from locking after emptying the magazine if you so choose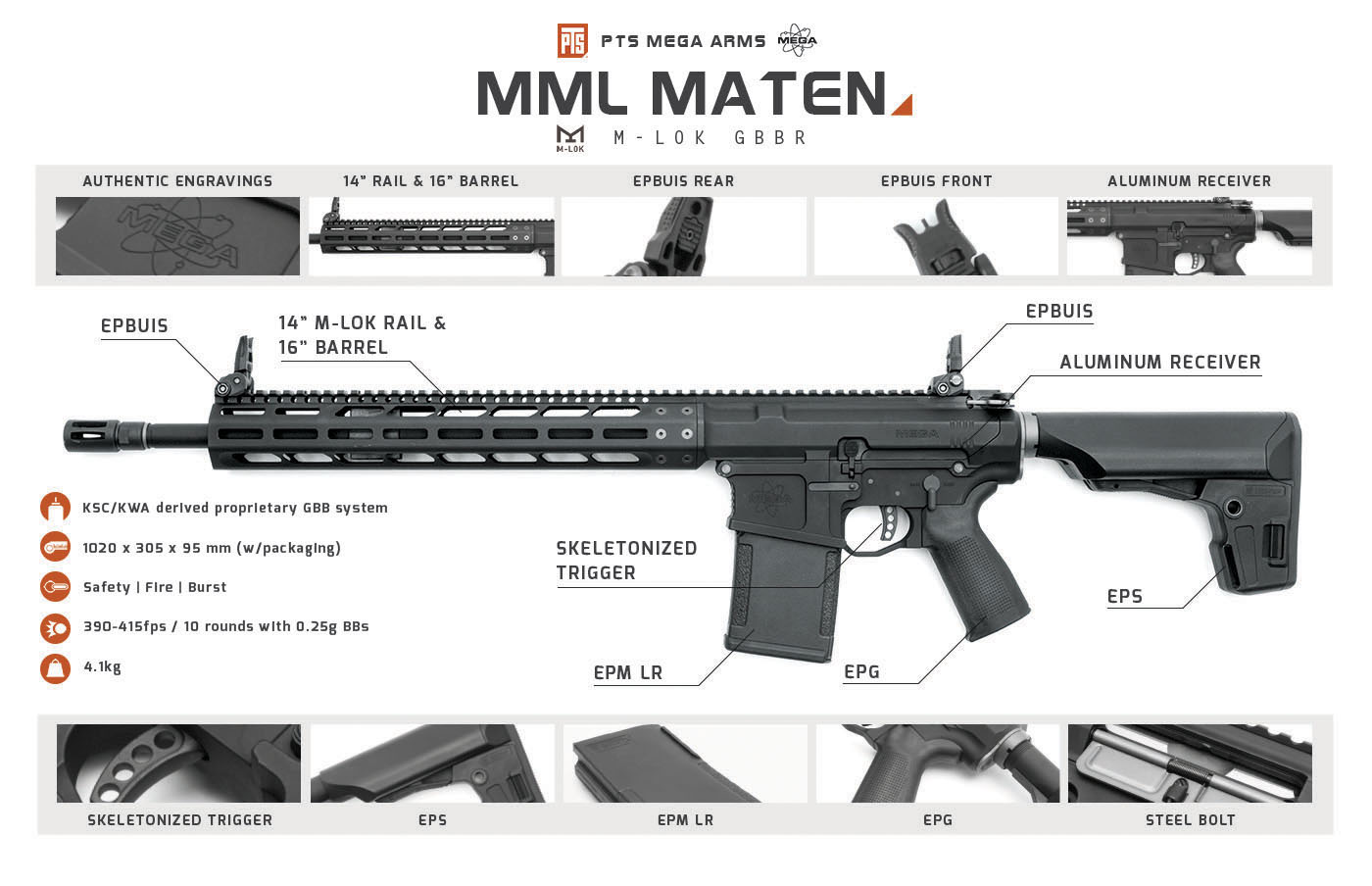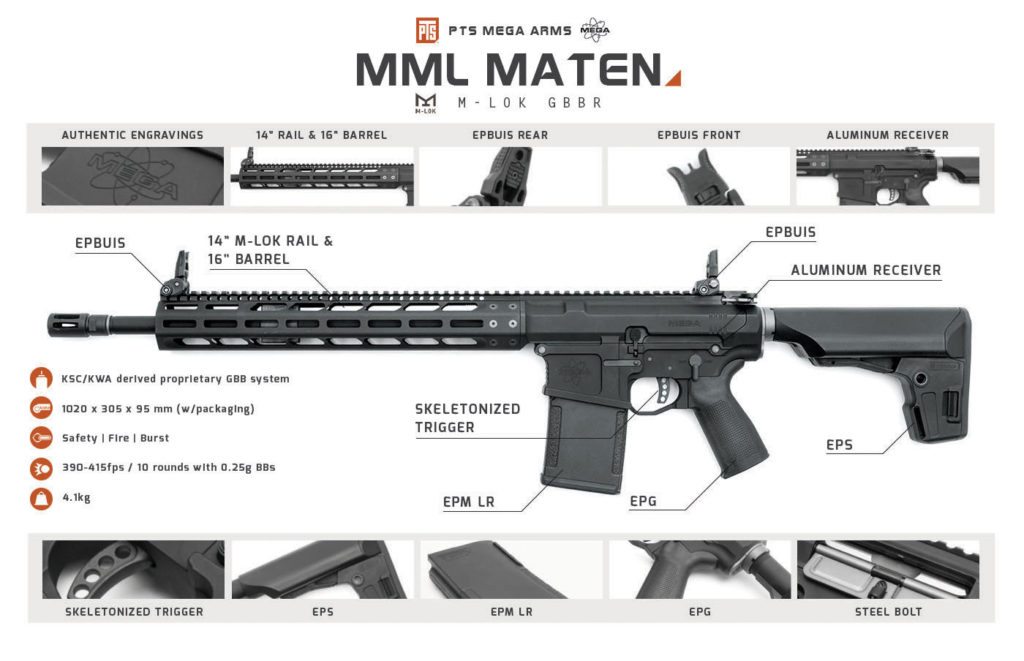 Disclaimer: This product is for Airsoft, training, and simulation purposes only. Utilizing Airsoft products improperly, including in real firearm applications, are potentially dangerous and may cause serious injury. PTS will not accept any responsibility or liability for misuse of this product. License: This Airsoft replica is manufactured under authorized Mega Arms license. Mega Arms® logo and related brand names are trademarks of Mega Machine Shop, Inc. in the united stated and/or other countries.
Mega Arms® logo and related brand names are trademarks of Mega Machine Shop, Inc. in the United States and/or other countries and are used for airsoft replicas under exclusive worldwide license by PTS Syndicate, Ltd. www.ptssyndicate.com
*Green Gas and BB's sold separately. Please purchase genuine airsoft accessories from a local/online airsoft retailer.*