The PTS Centurion Arms CM4 C4-10 by KWA features KWA's new AEG 3 system. This updated ERG simulates recoil via a proprietary Kinetic Feedback System. When used with the proprietary ERG/AEG 2.5 and AEG 3 magazine that is switchable between 30 or 120 round capacity, it is capable of an electrical auto cutoff when the last round is fired. If you are willing to forego the cut off, the CM4 C4-10 can still use any standard AEG magazine such as the PTS EPM for AEGs. A quick-change spring system allows you to easily customize the FPS to your specific needs. Included as standard equipment for the CM4 AEG 3 are PTS' highly popular Enhanced Polymer Grip, Enhanced Back-Up Sight, Enhanced Polymer Magazine and Enhanced Polymer Stock.
Authentic licensed trademark Centurion Arms engravings

KWA's AEG 3 system with recoil

10" PTS Centurion Arms C4 Rail, compatible with any KWA models featuring a delta ring (LM4/LM4C/LM4 RIS/RM4A1/KM4A1/KM4A1 CQB/VM4A1)
Enhanced Back Up Iron Sights (EPBUIS) – consists of a low profile snag-free design that is unobtrusive when collapsed. Blending design with practicality, the EPBUIS includes elevation and windage adjustments as well as dual apertures for close and precise long distance shooting. Allowing the user to be versatile, adapting to any given situation.
Rear Wired & Li-Po Ready – Can handle the power of 11.1v Li-Po batteries.
10.3" CQB Length Barrel

Aluminum Upper & Lower Receivers for greater balance and portability without sacrificing its durability
Updated Ambi Selector Switch for increased ergonomics
KWA Compatibility – swap upper receiver with any rear-wired AEG 2.5 OR AEG 3
QD Mounts – integrated quick detach mounts on rail and stock
Integrated angled/wide trigger guard for added functionality and strength
EP Magazine (EPM, enhanced polymer magazine) – toggle between 30/120 rounds with the flip of switch to maximize your filed or training options
EP Grip Compact (EPG – C) – More vertical compact grip angle with improved ergonomics
EP Stock (EPS) – a simple yet highly functional collapsible polymer stock. Features unique cheek welds that are both comfortable and practical with storage compartments for tools and utilities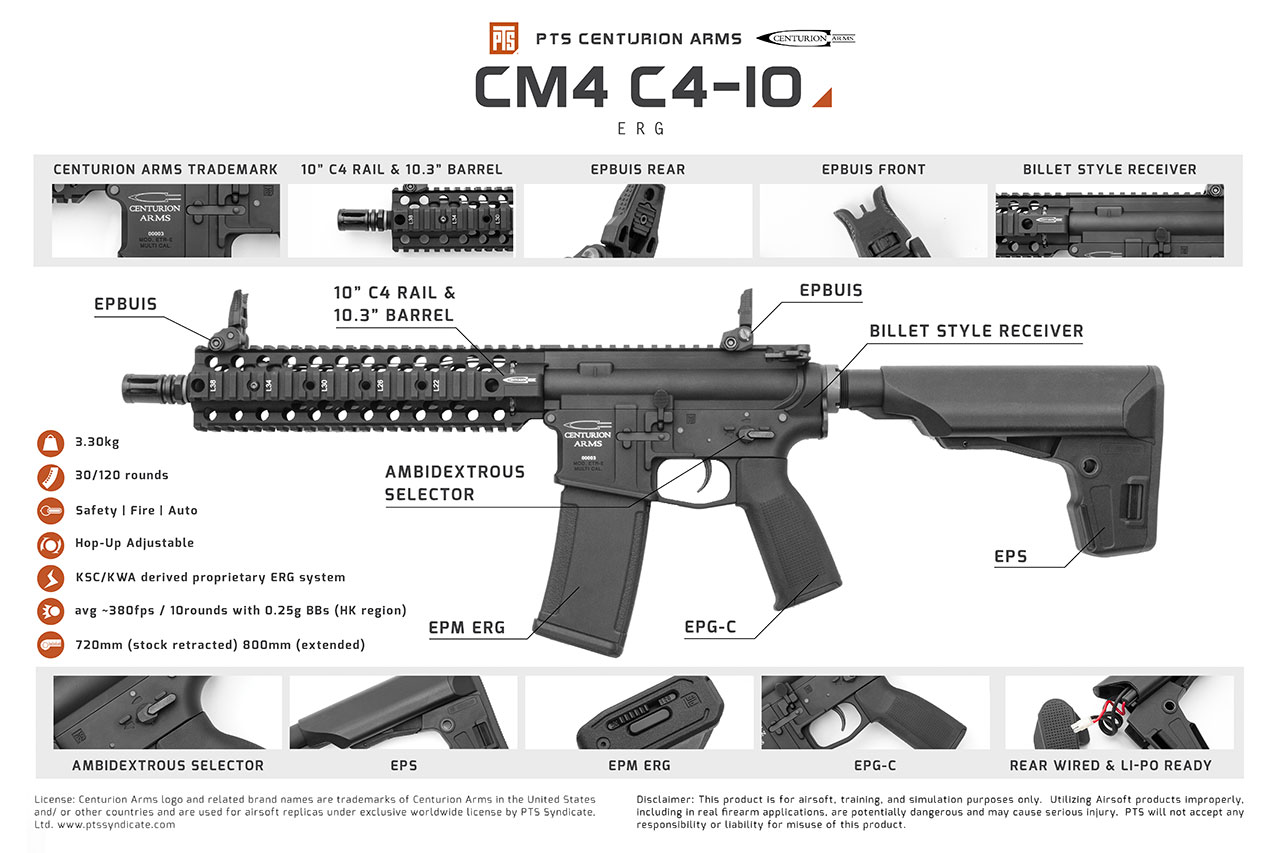 Disclaimer: This product is for Airsoft, training, and simulation purposes only. Utilizing Airsoft products improperly, including in real firearm applications, are potentially dangerous and may cause serious injury. PTS will not accept any responsibility or liability for misuse of this product. License: This Airsoft replica is manufactured under authorized Mega Arms license. Mega Arms® logo and related brand names are trademarks of Mega Machine Shop, Inc. in the united stated and/or other countries.
License: Centurion Arms® logo and related brand names are trademarks of Centurion Arms, LLC. in the United States and/or other countries and are used for airsoft replicas under exclusive worldwide license by PTS Syndicate, Ltd. www.ptssyndicate.com